August 5, 2019 Jamie Lee Curtis reviewed CAREFUL WHAT YOU WISH FOR in TIME Magazine. She called it "thrilling and suspenseful"!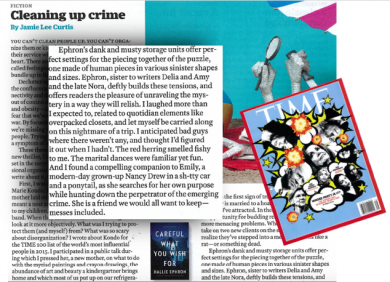 "The red herring smelled fishy to me. The marital dances were familiar yet fun. And I found a compelling companion to Emily, a modern-day grown-up Nancy Drew in a sh-tty car and a ponytail, as she searches for her own purpose while hunting down the perpetrator of the emerging crime. She is a friend we would all want to keep–messes included."
"Ephron's dank and musty storage units offer perfect settings for the piecing together of the puzzle, one made of human pieces in various sinister shapes and sizes. Ephron, sister to writers Delia and Amy and the late Nora, deftly builds these tensions, and offers readers the pleasure of unraveling the mystery in a way they will relish. I laughed more than I expected to, related to quotidian elements like overpacked closets, and let myself be carried along on this nightmare of a trip. I anticipated bad guys where there weren't any, and thought I'd figured it out when I hadn't.