FINALIST for the 2016 Mary Higgins Clark Award
"A captivating thriller" – Starred PW Review!
New York Times best selling author Hallie Ephron's novels have been called "gripping" (Boston Globe), "snaky, unsettling" (Seattle Times), and filled with "intensive, sustaining suspense" (Lansing State Journal). With NIGHT NIGHT, SLEEP TIGHT, the four-time finalist for the Mary Higgins Clark Award delivers her most captivating mystery yet, tinged with Hollywood glamour and set in a town where fame and infamy are often interchangeable.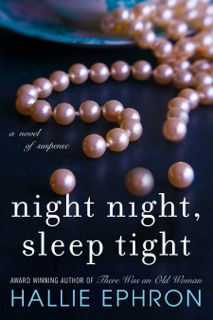 Los Angeles 1985: Deirdre Unger makes the drive from San Diego to Beverly Hills to help her screenwriter father put his dilapidated house on the market. She is expecting to deal with his usual kvetching and dark moods, but she gets a lot more than she expected…
In a cruel Sunset Boulevard-ian twist, Deirdre arrives home to find her father face down in his too-small swimming pool — dead. At first, Deirdre assumes her father's death was a tragic accident. But the longer she stays in town the more Deirdre begins to suspect that this is merely the third act in a story that has long been in the making. The sudden re-surfacing of Deirdre's childhood BFF Joelen Nichol — daughter of the famous and infamous Elenor "Bunny" Nichol — seems like more than a coincidence.
Back in 1963, Joelen confessed to killing her movie star mother's boyfriend. It just so happens that Deidre was at the Nichols' house the night of the murder, which was also the night she suffered her own personal tragedy. Could all of these events be connected? As Deirdre struggles to uncover the truth about the past, she is forced to confront a truth that she has long not wanted to believe.
Set in both the 1960's and 1980's with the bright lights of Hollywood shining in the background, NIGHT NIGHT, SLEEP TIGHT looks beyond the glitz and glamour to uncover well buried secrets of what goes on behind the scenes in Tinsel Town.
Rave reviews…

STARRED PW Review: "Old Hollywood glamour, scandals, and lies infuse this captivating thriller set in 1985 from Mary Higgins Clark Award-finalist Ephron"

 InStyle Magazine's #1 "page-turning pick to read this April."
"Just like her big sis Nora, this talented Ephron is fully capable of captivating an audience for extended periods of time (304 pages, to be exact). But instead of the usual cheery rom-com that's become synonymous with her last name, this enthralling story is decidedly darker in tone. Set in 1980s Los Angeles, it follows Deirdre Unger, who, after moving to the West Coast to assist her ailing father, discovers his body face down in the family pool. After initially chalking it up to a tragic accident, she soon discovers that it could in fact be a murder, and is hell-bent on figuring out who's guilty of the crime."

Good Housekeeping – One of the April's "killer thrillers." A "page turner" "As addictive as Gone Girl."
Joe Hartlaub, Bookreporter

-"An extremely impressive work." —
"The plotting and character development read as if they could have been transplanted from an unpublished Raymond Chandler novel. The work, however, is all Ephron's, who takes a giant step from her already exemplary prior work and achieves an entirely new level of craftsmanship."
"Ephron combines her insider's knowledge of L.A. with well-conceived and well-executed characters to create a winner that transcends its Turner-Crane-Stompanato origins. …And sleep tight?  Not bloody likely if, like this reviewer, you'll be up late devouring Ephron's latest in one sitting. … So hooray for Hollywood, hooray for homicide, and hooray for Hallie Ephron, who begins with a seed of truth and grows it into a bumper crop of crime and cynicism.

Hartford Books Examiner John Valeri
"Hallie Ephron is at her absolute, unequivocal best with Night Night, Sleep Tight. Autobiographical elements—the author is, after all, the daughter of celebrated screenplay writers Henry and Phoebe Ephron—elevate the story from standard whodunit fare, resulting in a deeply atmospheric and authentic sense of time and place. With the glitz and glamour of old Hollywood lost to cynicism and suspicion, Ephron serves up a multitude of credible suspects and motives to keep readers guessing until the very end and offers a final denouement worthy of its own big screen moment."

The Iron Mountain Daily News
"With a sense of the glamour and scandal of old tinsel town, Hallie Ephron takes one of the most notorious chapters in Hollywood history and crafts a mystery that will keep the reader's interest from its beginning to its most unconventional ending.

Booklist
"As the daughter of screenwriters, Ephron knows the old Hollywood scene and re-creates it vividly in her fourth novel, inspired in part by the 1958 stabbing of Lana Turner's lover. A fast-moving tale, with building suspense and the price of fame at its center."

Kirkus Reviews
"Autobiographical basis gives this novel emotional authenticity and scenic clarity. A page-turner with juicy Hollywood insider details.


Suspense Magazine
"The Hollywood lifestyle—from the glitz and glam to the grit and deceit—are all wrapped up in a perfect package by this award-winning author. And taking a drive through Old Hollywood, fearing and admiring that coveted 90210 area code will be something readers will not forget."
– "Taut, tart, and absorbing. A satire and a celebration of Hollywood." — Christina Baker Kline, #1 NY Times bestselling author of Orphan Train
– "Hallie Ephron at her very best in a layered, page-turning mystery that recalls the glamour of Old Hollywood and a generation of Beverly Hills kids who grew up in its shadow." — William Landay, NY Times bestselling author of Defending Jacob
– "Shines! Once you start reading, you won't be able to stop." — B. A. Shapiro, NY Times bestselling author of The Art Forger
-"Spellbinding. Steeped in Hollywood legend and lore; richly atmospheric, multi-layered and deeply resonant." – Jennifer McMahon, NY Times bestselling author of The Winter People
"Undulates with suspense and expertly puts the tinsel in Tinseltown." — Craig Johnson, author of the Walt Longmire series, basis of the hit series Longmire