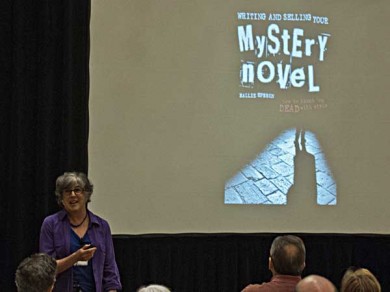 June 28, 2014
Reporter Tom Avril of The Philadelphia Inquirer came to see what MWA University was all about. He caught Hallie Ephron teaching plotting.
Six established crime authors held forth on the tricks of their trade at the Sheraton Philadelphia Society Hill, covering such topics as dramatic structure, character development, and the art of description. And along the way they sprinkled in a few don'ts: As in – cliché alert! – no cliff-hangers that involve a cellphone battery running out of juice.

Hallie Ephron, author of 2013's There Was an Old Woman, took attendees through a hypothetical scene: Guy drives home from dinner with his wife, picks up the mail, notices the door to their apartment is open. Inside, the furniture is gone, but he finds a single red shoe with a stiletto heel.

Where in the course of events should the writer start the scene? How should the action be slowed down at crucial moments? And how to end the scene? Cliff-hangers are good, Ephron said, but she urged writers to use them sparingly.
(Photo by Ron Tarver, Inquirer Staff Photographer)