NEVER TELL A LIE
Psychological suspense meets suburban noir




David Award for Best Mystery Novel
Salt Lake County Libraries Readers Choice
Publisher's Weekly 

STARRED

 review




A young couple are about to have their first child. A woman from their past shows up at their yard sale. She goes inside their house, and she never comes out.
Relentlessly fast-paced and disturbingly creepy, NEVER TELL A LIE is a page-turning thrill ride about how well we know the people we love, and how far we are willing to go to protect the secrets of our past.
Now a movie for the Lifetime Movie Network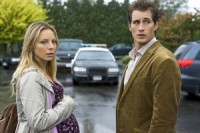 "And Baby Will Fall," the movie of NEVER TELL A LIE, is now showing on the Lifetime Movie Network!
READ: Novelist Sees Characters Brought to Life on mylifetime.com.