CAREFUL WHAT YOU WISH FOR
Now available in paperback, hardback, e-book, and audio!
Emily Harlow is a professional organizer who helps people declutter their lives; she's married to a man who can't drive past a yard sale without stopping. He's filled their basement, attic, and garage with his treasures.
Sometimes she finds herself wondering: Does he spark joy?
Jamie Lee Curtis, TIME Magazine: CAREFUL WHAT YOU WISH FOR is "THRILLING AND SUSPENSEFUL"! 
---
Free excerpts: 
---
STARRED review in Publisher's Weekly
"This outstanding standalone from bestseller Ephron (You'll Never Know, Dear) may be the first domestic thriller to weave in Marie Kondo's decluttering theory about discarding things that don't spark joy. … After being a finalist five times, Ephron may finally win the Mary Higgins Clark Award for this one." – Publisher's Weekly
---

ONE OF AUGUST'S TEN BEST BOOKS
Careful What You Wish For
"When a professional organizer comes across what seems to be stolen property and then discovers a dead body, the mess is more than she bargained for. It definitely does not spark joy. In this thoroughly enjoyable twist on the classic murder mystery, her organizing skills help solve the puzzle." — Christian Science Monitor
---
"Hallie Ephron's Careful What You Wish For is one of the most original thrillers I've read this year, in large part because of the heroine who takes center stage. … The tale's irony is both striking and sumptuous, as we watch Emily struggling to apply the principles of her trade to untangle herself from the web in which she's mired." — The Providence Journal
---
"Move over, Marie Kondo! Professional organizer Emily Harlow not only helps to declutter her clients' lives, she has also become the prime suspect in a murder. In "Careful What You Wish For," Hallie Ephron has created a psychological thriller so brilliantly constructed that you'll be asking yourself "How did I miss that clue?" while simultaneously racing to finish the book – most likely in one sitting." — The Orange County REGISTER
---
Lori Rader-Day interviews Hallie for the Chicago Review of Books.
Ephron's novels are hyper-contemporary, engaging with our very of-the-moment fears about family life and the modern world. In her latest, Careful What You Wish For, Ephron has written what might just be the first crime fiction novel to "spark joy" by inciting terror in the decluttering industry. (Think Marie Kondo's Tidying Up crossed with Storage Wars plus, well, murder.) Careful What You Wish For is a tidy novel without a lot of subplots or loose threads. What it's likely to spark is a night or two up past a civilized bedtime.
I talked to Ephron about the origins of her novel, her advice for dealing with a pack rat, and what sparks joy for her. Read more…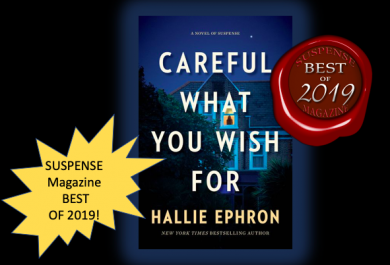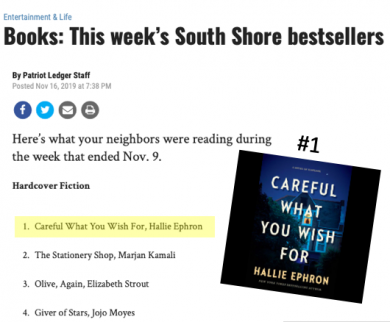 #1 South Shore
best seller

THE TIMES WEEKLY.com recommends: "For the gift who loves being organized, wrap up 'Careful What You Wish For' by Hallie Ephron. (A) makes-you-think novel."

NEW BOOK TO ADD TO YOUR BEACH READS
"Perfect for people who love both Marie Kondo and edge-of-your-seat thriller" – The Cheat Sheet
---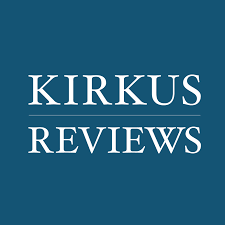 "Ephron's tidy approach to stowing clues, arousing suspicions, keeping the chaos of the climax under control, then tying up loose ends makes her a professional organizer of this type of entertainment. In a word—neat."
— Kirkus Reviews
---
"With Careful What You Wish For, Hallie Ephron has crafted a slow-burning, claustrophobic tale that taps into the zeitgeist of the (inter)national cleaning frenzy. It's good, old fashioned storytelling at its best—with a modern bent that should appeal to a diverse readership. Turns out that organizing a sock drawer is a lot simpler than decluttering the contents of our human hearts and minds. That process may be messy, or even murderous—but this book's a real keeper!" Criminal Element, John B. Valeri
---
"In Hallie Ephron's new mystery, trouble comes out of the closet. [Her] tantalizing mystery doesn't begin with the clichéd corpse, it starts with socks. Yes, socks. Specifically, organizing them as a panacea. That's something Freud wasn't thinking about when he wrote Civilization and its Discontents. But maybe he should have." — Lev Raphael, Writing Across Genres
"A masterclass in airtight plotting, obsessive characters, and sleight-of-hand twists and turns; a hold-your-breath winner." — James Ziskin, author of the award-winning Ellie Stone mysteries
"A timely, twisty tale that had me grinning at the opening line and wide-eyed at the conclusion... The perfect summer book club pick!" — Wendy Corsi Staub, NYTimes bestselling author
"A cautionary tale for the spark joy moment—a tidy nightmare of a story that won't be contained. A compulsive page-turner. — Lori Rader-Day, Edgar® Award-nominated author of Under a Dark Sky
"If Alfred Hitchcock guest-edited Martha Stewart Living,
the result might look something like Hallie Ephron's latest novel,
Careful What You Wish For." – BOLO Books Review
"All I could say was "wow," "omg," "no way," and a few others to express my thoughts as the pieces of the puzzle came together. Talk about a plot twist. Even a subway stop didn't deter me as I had to see this to the finish." — Dru Ann Love (Dru's Book Musing)
---
Hallie writes "On finding my way to crime fiction…" on MYSTERY FANFARE
"When I'm asked what books inspired me to write mystery novels, sometimes I go on about how much I loved the Nancy Drew novels. I talk about graduating to the complete works of Agatha Christie, Dorothy Sayers, Ngaio Marsh, and P.D. James. But those authors' works inspired me to binge read mysteries, not to write them. Instead, I found my way by first trying and failing to write true crime." More…
---
Podcast with Mark Combs on Public Display of Imaginatiion
Podcast with Hank Garner on Author Stories
Radio interview with Mat Schafer on Boston Sunday Review
Podcast with Nancie Clare on SPEAKING OF MYSTERIES
Interview with Fran Lewis on Blog Talk Radio
---
YOU'LL NEVER KNOW, DEAR
Forty years ago, a little girl and her doll disappeared; today the doll comes back.
Mary Higgins Clark Award FINALIST
Audiofile EARPHONES AWARD
New York Public Library PICK for adults
---
Hallie writes about what it was like growing up the third of four writing Ephron sisters.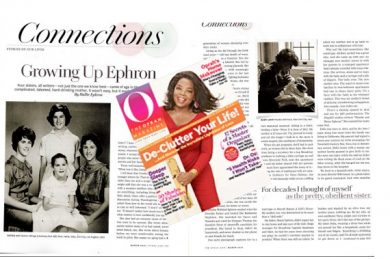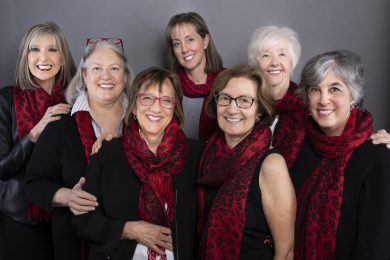 Hank Phillipp Ryan, Julia Spencer-Fleming, Deborah Crombie, Jenn McKinlay, Lucy Burdette, Rhys Bowen, and Hallie Ephron. Find us every day blogging at JUNGLE RED WRITERS.