PUB DATE: 2/10/2015
PHOTOPLAY tells what happened before NIGHT NIGHT, SLEEP TIGHT…
Draw back the curtain on what happened the night of a glamorous party in the 1960s, and the tragedy that left movie star Bunny Nichol's and her daughter Joelen's lives in shambles. Photographer Duane Foley knows what he saw; the world knows what his camera saw…

Duane Foley thought shooting movie star Bunny Nichol's glamorous Hollywood party was going to be just another job. All the A-listers will be there, of course: Rock Hudson and Doris Day, not to mention Bunny herself and her current Argentine playboy, Tito Acevedo. And Duane's being paid up front, not working on spec like he usually does. (He's still smarting over having gotten that shot of Jack Kennedy and Marilyn all lovey-dovey over dinner, only to have a pair of goons tackle him in the parking lot and smash his camera.)
Bunny's party is about what Duane expects—too many beautiful people, too much alcohol, Bunny's 15-year-old daughter looking too grown up—but what he doesn't expect is the shot he gets at the end of the night: a dead body.
Behind PHOTOPLAY…
Hallie Ephron
By the time I finish writing a novel, usually I've put the characters through so much grief and turmoil that a sequel would be cruel and unusual punishment. Just for instance, ninety-two year old Mina Yetner goes through trial by fire (several times) in THERE WAS AN OLD WOMAN. I imagine Mina going on without me, her final years unfurling in messy episodes, not acts, blissfully free of drama and suspense.
But when I finished NIGHT NIGHT, SLEEP TIGHT I realized there was more story to tell. Not what happens after the novels ends, but what went on before.  And out "popped" (if only) a longish short story, PHOTOPLAY: A STORY OF SUSPENSE which goes on sale 2/10/15.
The main characters from NIGHT NIGHT are in PHOTOPLAY:  movie star Elenor "Bunny" Nichol; her hunky Argentine lover, "Tito" Acevedo; her 15-year-old daughter Joelen (Joe-Ellen). There's a new guy on the scene,  narrator Duane Foley.
As a professional photographer, Duane is the consummate Hollywood inside outsider. The pictures that he's hired to take at Bunny's glamorous party are supposed to reflect Bunny and her guests at their best and most beautiful, the kind of pictures that ran in movie magazines like "Photoplay," publications that were virtual PR machines for the stars.
At the party, Duane's camera gets an eyeful. But it's not all what he or his host bargained for.
Writing the story, I mined my own memories of what it was like to grow up in Beverly Hills in the 60s, the daughter of Hollywood screenwriters. I recreated the kind of parties my parents used to throw (laughter, music, a haze of cigarette smoke, and too much booze) and upgraded the guest list to include A-list players like Doris Day and Rock Hudson. I took the Beverly Hills house I grew up in (in the photo below), moved it from "the flats" to north of Sunset, and tripled its size.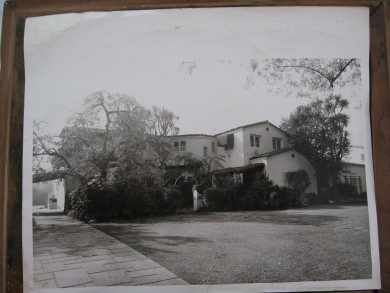 At the party, Bunny allows Joelen and her best friend to dress up and answer the door, just the way my parents did. But the girls stay up far past the time when they're supposed to have turned into pumpkins, and they indulge in cocktails far more potent than Shirley Temples. In the party's aftermath, neither of them will be the same.
I promise: NO SPOILERS! I worked hard to make sure that PHOTOPLAY doesn't spill any of the secrets and surprises in NIGHT NIGHT. But if you read the story you'll have a few insights into the characters in the novel that others won't.
The e-story PHOTOPLAY (HarperCollins/Witness Impulse) is available starting today for $1.99: