You'll Never Know, Dear


Forty years ago, a little girl and her doll disappeared; today the doll comes back
Now in paperback!
MARY HIGGINS CLARK Award finalist!
BEST of 2017: Audiofile Magazine!
---
LitHub's CRIME MUST-READ
Pittsburgh Post Gazette: "A captivating tale of suspense" 
Boston Globe: "Compelling" "Deftly integrates the mystery genre with women's fiction."
Audiofile Earphones Award Winner: "A riveting suspense novel, and Amy McFadden's narration is compelling."
Richmond Times-Dispatch: "Impressive storytelling skills on riveting display"
Shelf Awareness: "You'll Never Know, Dear is a grabber, a mystery ballasted by women on a mission and the ties that bind them. Ephron is sharp; she swerves around potential plot snags and tosses red herrings like a master."
New York Times Book Review: A "surprisingly gentle" story that tends "the layers of guilt and sorrow that burden a family"; a portrait of women "who rely on their doggedness and emotional bonds on a mission to restore family peace."
Publisher's Weekly: "Engaging portrait of three generations of bickering, bull-headed, but loving women challenged to become their bravest and best selves."
Library Journal:  "A satisfyingly creepy read for fans of Southern Gothic fiction"
The Criminal Element: An "irresistibly readable addition to the author's impressive arsenal."
San Francisco Review of Books: "An engrossing and fast-paced novel that will hold readers' attention while they try to figure out who is behind all of the mayhem."
Fresh Fiction: "What a great suspense to read, YOU"LL NEVER KNOW, DEAR written by Hallie Ephron is one that you will not want to miss!"
Have a listen! An excerpt from the audio book
---
1918 Edgar Awards:
Hallie & fellow Mary Higgins Clark Award Finalists
Nadine Nettman (Uncorking a Lie), Ellen Crosby (The Vineyard Victims), Lori Rader-Day (The Day I Died), Carol Goodman (The Widow's House), & Hallie (You'll Never Know, Dear)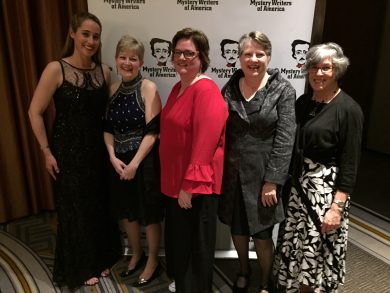 ---
Livestreamed from BookExpo 2017
---
NAME THAT RED Panel… decked out in our pashminas and lying up a storm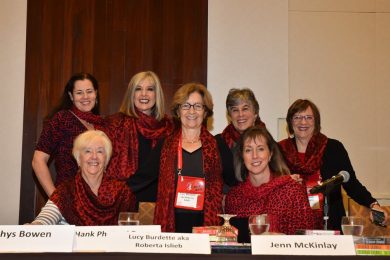 ---

On the road with Janey's doll

This doll is a gift from my friend Mary Alice Gallagher whose mother inspired Miss Sorrel in You'll Never Know, Dear. She's going places with me…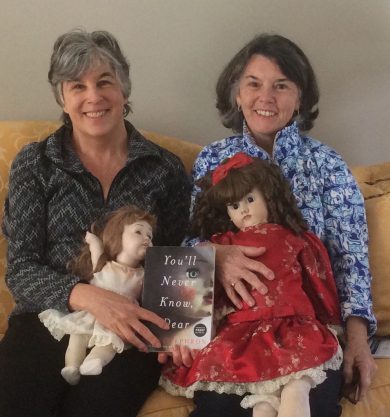 At the spectacular An Unlikely Story Bookstore in Plainville, MA, appearing with Joseph Finder and… The Wimpy Kid himself!
Book launch at Brookline Booksmith with Roberta Isleib (aka Lucy Burdette) & Hank Phillippi Ryan…
Book launch at the Milton Public Library…
At home in my office…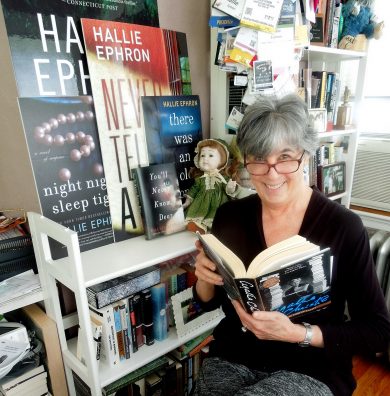 Melrose Library with librarian Diane Wall…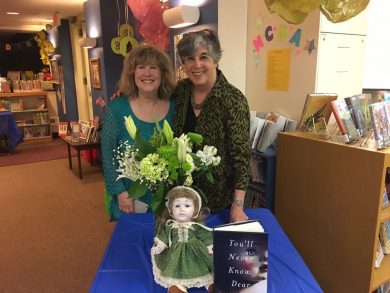 Savoy Bookshop and Cafe in Westerly RI with bookseller Elissa Englund and author Francine Matthews (Death on Nantucket)…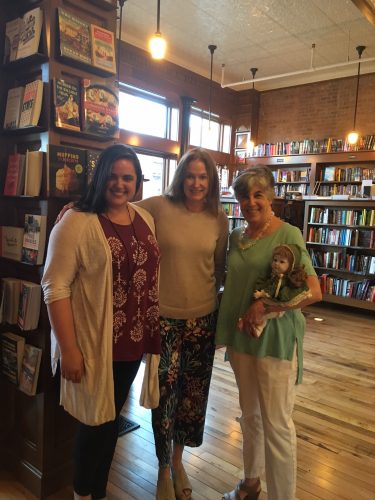 ---
---