Night Night, Sleep Tight finalist for the 2016 Mary Higgins Clark Award!
Hallie Ephron is the New York Times best selling author of suspense novels that she hopes keep readers up nights. She is a four-time finalist for the Mary Higgins Clark Award, and her books have also been nominated for Edgar and Anthony awards. She is a much sought-after speaker and writing teacher. More about Hallie…
Night Night, Sleep Tight


Publishers Weekly STARRED REVIEW: "Old Hollywood glamour, scandals, and lies infuse this captivating thriller set in 1985."

Richmond Times-Dispatch: "Hooray for Hollywood, hooray for homicide, and hooray for Hallie Ephron who begins with a seed of truth and grows it into a bumper crop of crime and cynicism." — Jay Strafford

InStyle Magazine: Night Night, Sleep Tight #1 page-turning pick for April: "Just like her big sister Nora, this talented Ephron is fully capable of captivating an audience… "

Good Housekeeping Magazine names Night Night, Sleep Tight a "Killer Thriller" and promises it's "just as addictive" as Gone Girl

"Extremely impressive… The plotting and character development read as if they could have been transplanted from an unpublished Raymond Chandler novel." — Joe Hartlaub, Bookreporter

"Taut, tart, and absorbing. A satire and a celebration of Hollywood." — Christina Baker Kline, #1 NY Times bestselling author of Orphan Train

"Hallie Ephron at her very best in a layered, page-turning mystery that recalls the glamour of Old Hollywood and a generation of Beverly Hills kids who grew up in its shadow." — William Landay, NY Times bestselling author of Defending Jacob
---
Photoplay: A short tale of suspense

What happened before NIGHT NIGHT, SLEEP TIGHT

---
Nominated for the 4th time! Mary Higgins Clark Award
Night Night, Sleep Tight was nominated for the 2016 Mary Higgins Clark Award. Hallie with fellow nominees Lori Rader-Day, Catriona McPherson, and Susanna Calkins.
---
Hallie on her hair in Me, My Hair and I: Twenty-seven Women Untangle an Obsession
Elizabeth Benedict Editor

I'm thrilled to be included in this book of essays. Suleika Jaouad faced leukemia and chemo with "hair tattoos." Hallie Ephron tried for celebrity hair, from June Allyson to Sandra Dee to Dorothy Hamill to Jennifer Beals. Marita Golden contemplated the cultural meaning of "good hair" and her decision to let hers be natural. Plus more from the likes of Adriana Trigiani and Anne Lamott. It's getting rave reviews.
From "Remembering Sandra Dee"…
It's 1958 and I'm ten years old, a skinny kid, all elbows and knees, a long face with big eyes under furry caterpillar eyebrows, sitting on a stack of telephone books in the chair at Mr. Latour's Beauty Salon, where my mother gets her hair done once a week. I've come here often with her, but this is the first time Mr. Latour is cutting my hair.
---
---
Book launch for Night Night, Sleep Tight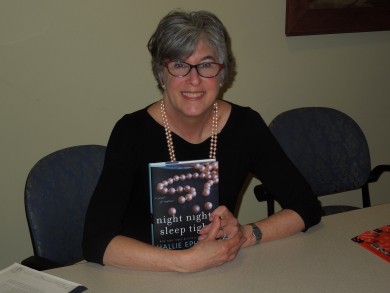 Hallie with Anne Perry at the 2015 Surrey International Writers Conference, photo by Sandra Vander Schaaf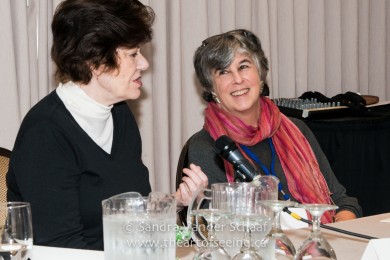 Jungle Red Writers take Malice! SRO "game" panel at Malice Domestic with help from Charlaine Harris and a lot of our friends…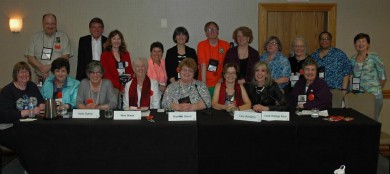 Hallie Ephron, Rhys Bowen, Charlaine Harris, Lucy Burdette, and Hank Phillippi Ryan with the courageous souls who stepped up to play 50 Shades of Red with us