Hallie Ephron is the  author of suspense novels that she hopes keep readers up nights. Now, from the award-winning author of Night Night, Sleep Tight, comes a novel about a little girl's disappearance and the porcelain doll that may hold the key to her fate…
---
Newsletter with an essay on sisterly guilt.
---

Reviews are in!




LitHub's CRIME MUST-READ FOR JUNE
Richmond Times-Dispatch: "Ephron — the sister of fellow writers Nora, Delia and Amy — excels at domestic suspense, and 'You'll Never Know, Dear' again puts her impressive storytelling skills on riveting display."
Audiofile Earphones Award Winner: "A riveting suspense novel, and Amy McFadden's narration is compelling."
Boston Globe: "Deftly integrates the mystery genre with women's fiction, it's made compelling by the depth and resonance of the relationships."
Booklist: "Strong characters" "A vivid sense of place"


"

I LOVED this book! — Deborah Crombie, New York Times best-selling author of Garden of Lamentations
Publisher's Weekly: "Engaging portrait of three generations of bickering, bull-headed, but loving women challenged to become their bravest and best selves."
John Valeri in The Criminal Element: An "irresistibly readable addition to the author's impressive arsenal."

Kirkus: "Would have been a great vehicle for Bette Davis and Joan Crawford"
Have a listen! An excerpt from the audio book
---
Livestreamed with Facebook at BookExpo 2017 in NYC
---

On the road with Janey's doll

This doll is a gift from my friend Mary Alice Gallagher whose mother inspired Miss Sorrel in You'll Never Know, Dear. She's going places with me…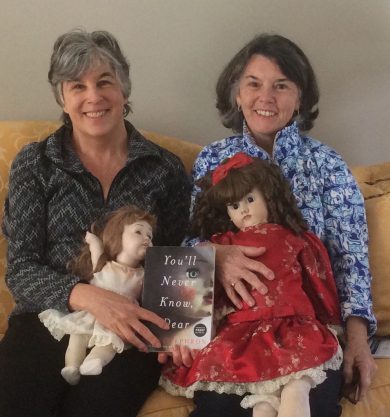 Book launch at Brookline Booksmith with Roberta Isleib (aka Lucy Burdette) & Hank Phillippi Ryan…
Book launch at the Milton Public Library…
At home in my office…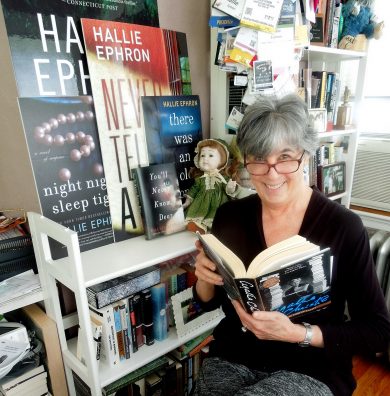 Melrose Library with librarian Diane Wall…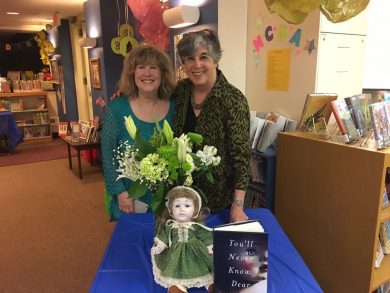 Savoy Bookshop and Cafe in Westerly RI with bookseller Elissa Englund and author Francine Matthews (Death on Nantucket)…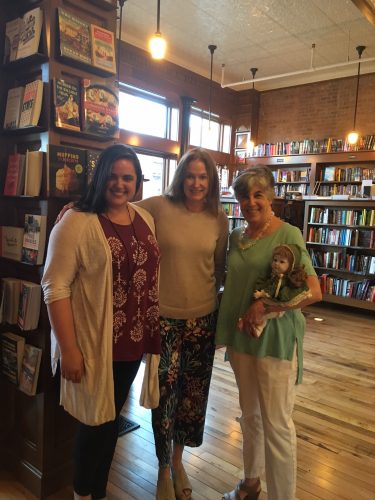 ---
---
---
 Edgar Awards
Nominated for the 4th time for the Mary Higgins Clark Award
Hallie with fellow nominees Lori Rader-Day,Catriona McPherson, and Susanna Calkins.