CAREFUL WHAT YOU WISH FOR
Emily Harlow is a professional organizer who helps people declutter their lives; she's married to man who can't drive past a yard sale without stopping. He's filled their basement, attic, and garage with his finds.
Sometimes she finds herself wondering: Does he spark joy?
---
STARRED review & early praise!



"This outstanding standalone from bestseller Ephron (You'll Never Know, Dear) may be the first domestic thriller to weave in Marie Kondo's decluttering theory about discarding things that don't spark joy. … Appealing characters and some suspenseful detective work help elevate this in-depth look at people's emotional attachment to things. After being a finalist five times, Ephron may finally win the Mary Higgins Clark Award for this one." – Publisher's Weekly
---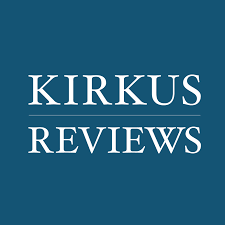 "Ephron's tidy approach to stowing clues, arousing suspicions, keeping the chaos of the climax under control, then tying up loose ends makes her a professional organizer of this type of entertainment. In a word—neat." — Kirkus Reviews
---
"A masterclass in airtight plotting, obsessive characters, and sleight-of-hand twists and turns; a hold-your-breath winner." — James Ziskin, author of the award-winning Ellie Stone mysteries
"A timely, twisty tale that had me grinning at the opening line and wide-eyed at the conclusion. Cleverly plotted and cast with compelling characters, the perfect summer book club pick!" — Wendy Corsi Staub, NYTimes bestselling author
"A cautionary tale for the spark joy moment—a tidy nightmare of a story that won't be contained. A compulsive page-turner. — Lori Rader-Day, Edgar® Award-nominated author of Under a Dark Sky
YOU'LL NEVER KNOW, DEAR




Forty years ago, a little girl and her doll disappeared; today the doll comes back

Mary Higgins Clark Award FINALIST
Audiofile EARPHONES AWARD
New York Public Library PICK for adults

---
---
Hallie talks about the writing life with Craig Hart on "The Games and Writers Show"
1918 Edgar Awards:
Hallie & fellow Mary Higgins Clark Award Finalists
Nadine Nettman (Uncorking a Lie), Ellen Crosby (The Vineyard Victims), Lori Rader-Day (The Day I Died), Carol Goodman (The Widow's House), & Hallie (You'll Never Know, Dear)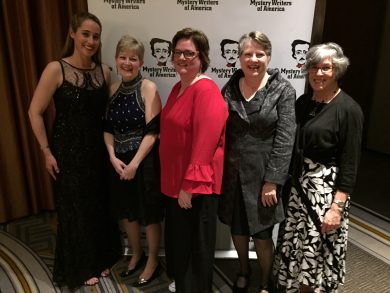 ---
Livestreamed from BookExpo
---
Jungle Red Writers win the
ANTHONY AWARD for best on-line content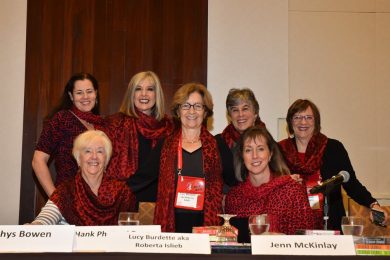 At home in my office…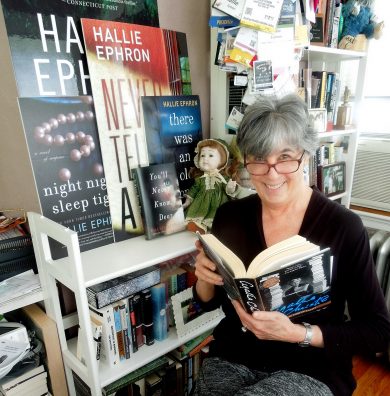 ---
---